Flow of procedures for establishing a company
Benefits of establishing a company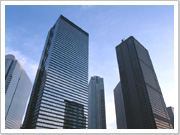 Not all people who open an independent business are established as "companies".To become a sole proprietor, you can work from that day by filing a report.There is no cost if you do it yourself.
Why many entrepreneurs spend time and money establishing a company
Is it?
There is a good reason for this.
The advantages of establishing a company include:

◇Types of company
◇ Benefits of choosingus
◇Flow of procedures for establishing a company
◇Customer's Voice
Merit 1 Increases social and external trust
Since the company is established over time and establishment costs, and it is not a little capital, it is evaluated that management is stable rather than an individual business and the desire for management is high.
Moreover, the company is listed in the register by the establishment registration, but this register can be acquired and viewed by anyone.As a result, in order to be able to obtain and view information, we can grasp the capital and the number of officers, etc., which become "trust" and lead to the expansion of transactions.Recently, i hear that there are restrictions that can not be done without a corporation (company), so the establishment of a company and corporate structure are now becoming essential for business expansion.
Benefits 2 Tax Saving effect scan
In principle, the tax rate of corporate income is constant for a company.
On the other hand, in the case of individual business operators, the higher the income, the higher the tax rate.
In addition, even if the president is replaced, inheritance tax will be exempted if corporate tax is paid because it is the same company.
The following table compares the amount of tax between individual businesses and corporations, and has the effect of tax savings on incorporation as income increases.
| | | |
| --- | --- | --- |
| Sole proprietorship | Business Income – Necessary Expenses | = Income of personal business |
| Corporations | Corporate Income – Required Expenses – Payroll Income Deduction | = Income of corporations |
| Income | Personal Business (Income Tax) | Incorporation (corporate tax) | Difference |
| --- | --- | --- | --- |
| 6 million yen | 372,500JPY | ¥128,100 | 244,400JPY |
| 8 million yen | 772,500JPY | 372,500JPY | 400,000 YEN |
| 10 million yen | ¥1,204,000 | 732,500JPY | 471,500JPY |
・ The equal discount of the corporate resident tax (70,000 yen) is not taken into account.
・ The income deduction amount is assumed to be 2 million yen.
Since we are a member of the Aichi Professional Group Limited Liability Business Association, we are working to provide legal services that satisfy our response to tax questions and tax offices by member union members, and we have received a very favorable reception.
in the future.
In the case of merit 30,000, it is a limited liability in principle.
In the event of an emergency, there are cases where moral and voluntary responsibilities are taken, or in some cases the president has a joint guarantee of personal assets, but by law it is a liability within the scope of the funds.
In the case of individual businesses, all of the personal assets become responsible for infinite responsibility.
Type of company
When establishing a company, you must first decide the form of a company, but there are four types of companies: A Corporation, A Joint Company, A Joint Company, A Joint Company, and A Joint Company (LLC), which is not a corporation but has a limited liability business association (LLP).
Corporation
Llc
Llp
Capital stock
1 or more
1 or more
2 yen or more
Investors
One person or more
One person or more
Two or more
Responsibility
Finite
Finite
Finite
Director
One person or more
–
–
Corporate Auditors
One person or more
–
–
Term of Office of Directors
2 years of directors (up to 10 years)
4th year as auditor
–
–
The Highest Decision Organization
General Meeting of Shareholders
Unanimous
Unanimous
Benefits of Choosing Us
◇Establishment cost
The administrative scrivener corporation Miraie Legal Office does not require the "stamp duty of 40,000 yen" required for certification of the articles of incorporation. Since we have prepared a system environment that allows "electronic authentication" in the articles of incorporation, we can reduce the necessary expenses at the time of establishment as much as possible.
In addition, we will help you with "20% off general remuneration" for 3 months for remuneration such as permit application and contract creation after establishment.
◇Establishment practice
Help with the preparation of documents ranging from preliminary surveys such as "trade name survey" and "business purpose", "articles of incorporation", "articles of incorporation certification", and "establishment memorandum" and "founder's list" necessary for the opening notification, and the detailed advice obtained from experience and daily study.
We will.
The administrative scrivener corporation Miraie Legal Office is a member of the "Aichi Expert Group Limited Liability Business Association" (Asg), a group of experts.
A group of experts who are not ashamed of their personality and skills in their professional names provide "reliable" specialized services with "peace of mind" the general duties necessary for company management, such as tax, social insurance, various grant applications, IT maintenance, and employee education, from civil law at the time of the establishment of the company and after the establishment of the company.
◇Post-establishment support
The establishment of a company is not a purpose, but a passing point and a means.We accept "free consultation" such as the troublesome permit application after establishment, the contract creation, and the civil law.
Our wide network, represented by Asg, helps us with business matching.We will continue our efforts to deliver high-value-added legal services and reasonable rates to more entrepreneurs than anywhere else.